Tent Camping
Tent camping is our most popular feature. We have lots of great shaded areas that are grass covered and level. In most cases you are able to park your vehicle at your camp site, although we do have a designated parking area next to our unloading ramp.
Details and Info: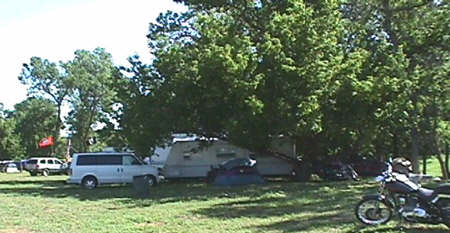 Tent camping includes the use of our shower house at no extra charge along with use of our over 300 picnic tables.
Reservations should include only those people who will be arriving together. We can add additional people or nights when you arrive. Since you select your own site it is not necessary that your whole group be on the same reservation or that they all have a reservation.
Generators are not allowed in the primitive tent-camping section, but are OK everywhere else.
Since tents offer little sound protection we ask that you be considerate of fellow campers.
Electrical outlets are available in the shower houses or at the Chuckwagon Restaurant for recharging phones, cameras, etc. We do have a limited number of electric outlets for CPAP machines or other medical equipment for a nightly charge of $10--please give us a call to reserve.
Campfires are not allowed, sorry! They have been permanently banned in Meade County during the Rally. This is more of a health issue than a fire concern. Gas or charcoal are OK.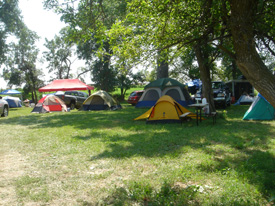 Rates for Tent Camping
$27 for the first person and $27 per each additional camper per night if staying 3 nights or more.
$35 per person per night if staying for less than 3 nights
* We require full payment when making a reservation
Reservations are not Confirmed until Payment is Received
20% Cancellation Fee prior to July 1st
No Refunds after July 1st.
Guests are welcome, but are only permitted when accompanied by a registered camper; they must leave an ID and $30 deposit at our gate, which they receive back if they leave before midnight. Guests here after midnight will be charged the overnight camping rate.
Open for Sturgis Rally
July 27 - August 11, 2024