Dry or Self-Contained RV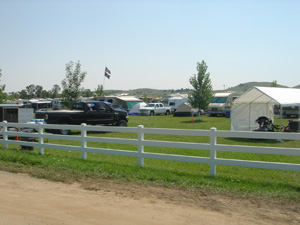 We have lots of room for additional RVs that do not require electric or water connections. There are several areas that are clearly marked for Self-Contained RVs. Generators are allowed in those areas marked for Dry or Self-Contained RVs generators, but please be considerate of other campers.
Do Not park in numbered RV sites or where there is electric or water hookups. If you do park in those areas you will be towed.
Two RV dump stations and water tank refilling stations are available for your use next to each shower house at no extra charge.
We do not charge based on the length of your RV.
We do not charge for truck or trailer parking, although we do offer a trailer parking area next to our unloading ramp.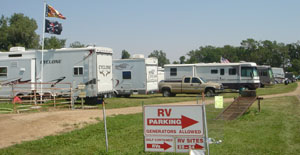 RVs with no Hookups Rates
$27 per person + a ONE-TIME fee of $30 for the RV
Rate for less than a 3 night stay is $35 per person/night (If Available) + the $30 ONE-TIME fee for RV
We require full payment when making a reservation
Reservations are not Confirmed until Payment is Received
20% Cancellation Fee prior to July 1st.
No Refunds after July 1st.
Guests are only permitted when accompanied by a registered guest
Open for Sturgis Rally
July 27 - August 11, 2024